The MD of the leading full-service marketing agency in the construction industry has spoken out on the importance of keeping jobs in Weston and North Somerset.
Andrew Scott founded The Ascot Group, which houses Purplex and specialist marketing data supplier Insight Data at 502 Worle Parkway, in 2004 and the company is one of the fastest growing businesses in the South West.
Having recently unveiled significant growth plans to reach 200 employees by the end of 2019, the Ascot Group will be attending three huge careers conventions that will take place at the Winter Gardens, Weston, in the next five weeks.
And Mr Scott, a Weston resident himself, said that such events are vital for several reasons.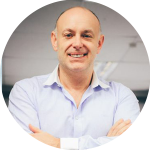 "These events are hugely important to Weston-super-Mare's regeneration and it is vital that we retain the vast local talent that we have in the town and the surrounding areas.

"We need to provide talented people within North Somerset with jobs they would be perfect for and being able to showcase the companies and roles available to people on their doorstep is brilliant. The message is you don't have to face long commutes into larger cities to get the job you want."
The first event will be the Weston-super-Mare Jobs Fair on Thursday, October 25, which is organised by North Somerset Council and John Penrose MP and broke its attendance record for job seekers and employers at the last event in March.
The second is the Schools Careers Convention, which is being organised by The Priory Learning Trust, on Wednesday, November 7, which provides a fantastic opportunity for student and their families to meet employers, colleges and universities to talk about career and study options beyond school. Students from all schools are welcome.
Then, finally, Weston College's annual Brighter Futures Fair takes place on Thursday, November 8, which aims to raise awareness of the careers and pathways available to students once they have completed their studies.
The Ascot Group will be just one of many companies, from a wide range of sectors, attending all three events and Mr Scott added:
"We are passionate about retaining local talent and are continually on the hunt for the brightest and best to come and join us."
The Weston-super-Mare Jobs Fair will take place from 10.30am-2pm; The School's Careers Convention from 5-8pm; and the Brighter Futures Fair from 10am-3pm.