Andrew Scott, CEO of the Ascot Group, has completed the sale of Business Leader Magazine, the Groups' B2B media and events company to Richard Harpin, Founder and Chairman of the £4 billion HomeServe PLC business.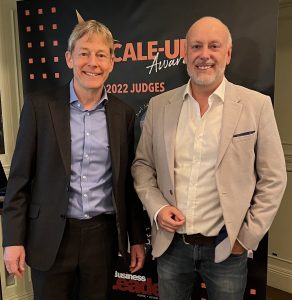 Business Leader serves ambitious entrepreneurs, business leaders and professionals across the UK via a print magazine, newsletters, podcasts and a news website. It also operates high profile business events including the Business Leader Awards.
In acquiring Business Leader, Richard Harpin will support it to create an inspirational and agenda-setting business publication for entrepreneurs across the UK. With Richard's investment and support, Business Leader will provide guidance, facilitate networking and knowledge-sharing and inspire the leaders of the UK's 110,000 medium-sized companies.
As part of the acquisition, Andrew McLaughlan will become CEO of Business Leader, while founder Andrew Scott will remain with the business as Chairman.
Richard Harpin, founder and Chairman of HomeServe PLC, said:
"There's never been a more important time to support Britain's entrepreneurs and ultimately spur more jobs, productivity and growth across the UK. Having grown HomeServe from a £50,000 investment into a £4bn business, I know how important it is to have access to the right mentorship, networking opportunities and newsflow. Business Leader's loyal following and multi-channel approach means it is uniquely placed to become the go-to outlet for ambitious founders and entrepreneurs".
Andrew McLaughlan, incoming CEO of Business Leader, said:
"I am hugely excited to drive Business Leader through the next stage of its development and in doing so to support founders in scaling up their businesses".
Andrew Scott, founder and CEO of the Ascot Group, said:
"Since launching the Ascot Group in 2004 it has been my mission to support businesses and help them grow through our marketing, media and technology companies. Business Leader has built a community of tens of thousands of high-growth businesses via our magazine, online content and events, and Richard will support this even further.
I am looking forward to being part of Business Leader's ongoing journey while also supporting Ascot Group's core marketing and technology businesses which have continued to enjoy rapid growth in recent years."
The Ascot Group was established by serial entrepreneur, investor and marketing expert Andrew Scott in 2004 and employs over 110 people across 3 sites. The Group includes Purplex, an award winning creative, digital and PR agency, and specialist data and CRM software business, Insight Data. It also has a property management company and investment venture, supporting start-ups and entrepreneurs with investment and business support.
Ascot Group was advised on the deal by Charles Cook, Managing Partner of Cook Corporate law firm in Bristol.