Andrew Scott, CEO of Ascot Group, was one of four keynote speakers at Bristol's first ever 'Scale Up Summit.'
Presented by the West of England Growth Hub, and taking place in Engine Shed, the event aimed to educate and inspire entrepreneurs in the region hoping to scale up their businesses.
The programme consisted of keynote speeches from successful business leaders and 'lightning pitches' from organisations which provide support and funding for businesses looking to grow.
Andrew listed three top tips for ambitious entrepreneurs – talk to customers, focus on the numbers and be relentless.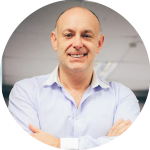 "With a wealth of untapped private and public sector funding and vital advice available, there's never been a better time to start a business,"
said Andrew.
"You can never take your foot off the gas if you're going to build a sustainable, high-growth business, and events like the Scale Up Summit are vital for business owners to grow their network and hear advice from successful CEOs."
Entrepreneur, investor and business adviser Andrew Scott has founded, built and sold several companies and formed the Ascot Group in 2004.
The Ascot Group is made up of Purplex, the leading full-service marketing agency in the construction industry; award-winning specialist data supplier Insight Data; and Business Leader, the UK's leading B2B media company.