Key Stage 3 students from Weston were given an insight into life at the Ascot Group at a recent ReDiscover Project day at the Winter Gardens, Weston-Super-Mare.
Alex Bennett, the Ascot Group's Marketing & Events Manager, was invited to attend the interactive event and speak to students about the company, what his role entails and his career so far.
The ReDiscover Project has been created by Lloyds Banking Group with the aim to help students aged 11-14 see the real-world potential of subjects they may be disengaged with and introduce real-world tech skills to a range of secondary school subjects.
The nationwide initiative goes beyond the ICT basics, and teaches skills such as vlogging, graphic design, music streaming and online money management.
Lloyds linked up with Weston College to host the event and those in attendance were able to try out a range of subjects that have been given a specific digital focus, put their learning and insight into practice by building a specific business plan, and learn from Lloyds 'Digital Champions' and local business experts who were on hand to offer guidance, advice and to share industry knowledge.
The Ascot Group, founded in 2004 by entrepreneur, investor and business adviser Andrew Scott, houses marketing agency Purplex; award-winning specialist data supplier Insight Data; and Business Leader, the UK's leading B2B media company at 502 Worle Parkway.
The company, which is based in Weston, has 70 staff and is one of the fastest growing businesses in the South West.
"It was great to give students a real insight into what we do here at the Ascot Group, and the range of skills our team use,"
said Alex.
"Digital skills are becoming ever more important and the ReDiscover Project is a great way to encourage young people to engage with tech and see how they can use their digital talents to build a career."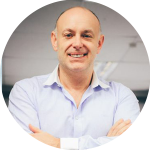 Andrew Scott commented:
"Initiatives like the ReDiscover Project are hugely important to the town and we were delighted to support it. Having access to the right skills is crucial for any business, and it's vital that young people understand what these skills are, to help them prosper in the future."